Return to Recent News & Publications
S.U.C.C.E.S.S. chosen to manage Dogwood Gardens building, bringing 138 new affordable homes to Vancouver's west side
Posted date: December 8, 2021
Dec. 8, 2021
For Immediate Release
Vancouver, B.C. – S.U.C.C.E.S.S. will help bring 138 new affordable homes to Vancouver's west side as part of an innovative partnership with the City of Vancouver, and Tikva Housing.
Construction on this new affordable housing facility, Dogwood Gardens, is already underway at the Cambie Gardens development, a new Onni Group project located at 603 west 59th Ave.
The City selected S.U.C.C.E.S.S. Affordable Housing Society and Tikva Housing Society to co-manage the new building. The Right Fit, an organization that matches affordable, accessible homes and independent living supports for people who need them will help tenant the eight accessible units in the building.
"Innovative partnerships like these provide unique ways for cities to supply affordable housing to meet community needs," said Queenie Choo, CEO of S.U.C.C.E.S.S., one of B.C.'s largest social service agencies.
"We've seen housing needs grow exponentially since we began operating and managing affordable housing in 2008. Since then, our affordable housing stock has grown to more than 770 units across Metro Vancouver, and we're proud to be helping more residents find safe, accessible homes that improve their quality of life."
The project was developed through the City's inclusionary zoning policy, which provides social housing to the City as a Community Amenity Contribution (CAC) from the developer, the new homes wouldn't be possible without the involvement of local non-profit organizations.
"Thanks to our strong affordable housing policies, these homes are being built by Onni Group for the public at no cost," said Mayor Kennedy Stewart. "And thanks to expert non-profits like S.U.C.C.E.S.S. and Tikva Housing Society, future residents will have the supports they need to thrive."
"Tikva Housing Society is very excited about our partnership with S.U.C.C.E.S.S. and the City of Vancouver, to continue to work towards meeting the affordable housing needs of our community," said Alice Sundberg, Director of Operations and Housing Development.
Quick facts:
Of the 138 new homes, there are 41 two-bedroom and 28 three-bedroom units.
There will be a mix of rents, including: 14 shelter rate units.
10 units are reserved for people in the province's Supporting Tenants, Enabling Pathways (STEP) program which helps them transition out of supportive housing.
55 units will be rented at rates affordable to people who earn up to BC Housing's Housing Income Limits (HILs).
69 units will rent at lower-end-of-market rates with rents approximately 10 per cent below market rate.
The development is expected to complete in the first half of 2022.
It will include amenity space, children's play area, parking and storage.
It is the first of four affordable housing buildings being developed at Cambie Gardens which will ultimately provide 540 new affordable homes.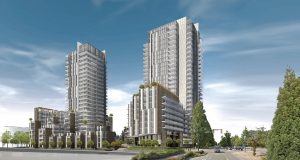 About S.U.C.C.E.S.S. Housing
S.U.C.C.E.S.S. has been operating and managing affordable housing projects across Metro Vancouver since 2008. We operate and manage more than 770 affordable housing units in Burnaby, Richmond and Vancouver in collaboration with BC Housing and Metro Vancouver municipalities. The residents we serve are from diverse cultural backgrounds and include immigrants, refugees, seniors, people with disabilities, people who were homeless or at risk of homelessness, families and people living on low incomes. Learn more at: successbc.ca/affordable-housing.
About S.U.C.C.E.S.S.
Founded in 1973, S.U.C.C.E.S.S. is one of the largest social service agencies in Canada. Our multicultural, non-profit charitable organization offers a wide range of programs and services that promote the belonging, wellness, and independence of people at all stages of their Canadian journey. Programs and services are offered in the areas of newcomer settlement, English language training, employment and entrepreneurship, family, youth and seniors programming, health education, community development, seniors care and affordable housing. Learn more at: successbc.ca.
For more information
Elaine O'Connor
Director, Strategic Communications and Partnerships
S.U.C.C.E.S.S.
236-880-1392
[email protected]
Follow us
Get the latest news from S.U.C.C.E.S.S. on Twitter (@SUCCESSCanada), Facebook (facebook.com/SUCCESSBC) and LinkedIn (LinkedIn.com/company/SUCCESSBC)