Chief Executive Officer
Queenie Choo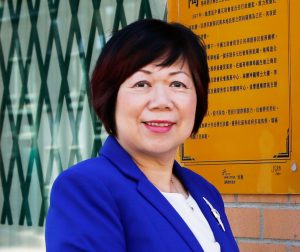 Born in Hong Kong, Queenie immigrated to Canada in 1980 after completing her nursing studies in the United Kingdom. Since making Canada her home, Queenie has held many senior leadership positions in various large-scale organizations.
Known for her passion for diversity and inclusion, Queenie was appointed as CEO to commission the first culturally based seniors care home in Edmonton, Alberta. In 2010, she became the Executive Director at Alberta Health Services, responsible for redesigning the home and community health system.
In 2012 Queenie moved to BC after being appointed as CEO of S.U.C.C.E.S.S., one of the largest non-profit social service organizations in Canada. Queenie offers a unique ability to blend a rigorous and results-oriented approach with a genuine sensitivity to people. At S.U.C.C.E.S.S., she leads committed teams to develop and provide innovative programs in the areas of newcomer settlement, English-language training, employment and entrepreneurship, family, youth and seniors programming, community development, affordable housing, and seniors care.
Under Queenie's leadership, S.U.C.C.E.S.S. is an active advocate for diversity and inclusion. In recognition of her experience, Queenie has been appointed to many related committees and councils. These include the Canadian Armed Forces' Joint Task Force Pacific Advisory Council on Diversity; the RCMP Commanding Officer's Cultural Diversity and Inclusion Board; the OMNI Pacific Advisory Council; the provincial Minister's Advisory Forum on Poverty Reduction; and the Premier's Chinese-Canadian Community Advisory Committee. Most recently, Queenie is appointed by the Premier of BC to serve on the Provincial Economic Recovery Task Force.
Queenie is a recipient of the Queen Elizabeth II Diamond Jubilee Medal, the Excellence in Nursing Administration Award, and the RBC Top 25 Canadian Immigrants Award. In 2016, she was recognized by BCBusiness as one of BC's 35 most influential women. In 2018, Queenie was appointed by the Minister of National Defence as an Honorary Naval Captain of the Royal Canadian Navy.
Chief Financial Officer
Cynthia Chow
Cynthia leads, manages, and performs all aspects of finance and accounting. She is responsible for constructing and implementing reliable systems for financial operations and control, ensuring that policies, procedures and practices comply with those set by the regulatory bodies and external auditors, as well as enhancing and implementing financial and accounting systems, processes, tools, and controls.
Director of Community Real Estate and Asset Management
Ahmed Omran
Ahmed oversees the operations and maintenance of S.U.C.C.E.S.S.'s affordable housing portfolio and is also responsible for increasing the portfolio through partnerships with all levels of government and the private sector. Ahmed also oversees real estate services, capital planning, asset management, and commercial insurance for all office locations.
Director of Integrated Services for Newcomers
Ryan Drew
Ryan provides leadership to all social service programs. She ensures alignment of programs to the overall strategic priorities of the agency while supporting operations through financial and risk management, implementation of best practices in service delivery, and leadership development.
Director of People and Technology
Diane Hong
Diane provides leadership for shaping the direction and building the capacity of S.U.C.C.E.S.S.'s Human Resources and Information Technology strategies for the organization. She is responsible for ensuring the alignment of all aspects of HR and IT programs and services with supporting operations, risk management, policies and procedures, and best practices.
Director of Strategic Communications and Marketing
Beau Hunter
Beau is responsible for crafting and leading S.U.C.C.E.S.S.'s strategic communications and marketing programs, as well as building the agency's brand with corporate partners and other external stakeholders. His brand storytelling, communications and advocacy efforts lead agency-wide initiatives that are aligned with the operational and strategic priorities of S.U.C.C.E.S.S.
Director of Strategic Initiatives and Integration
Amy Cheng
Amy provides leadership in the areas of strategic initiatives and integration of S.U.C.C.E.S.S.'s programs and services. She is responsible for leading the process to secure program funding, conducting research and data analysis, tracking and analyzing policies, and implementing the performance and quality improvement program.
Executive Director of Health Services for Seniors
Sinder Kaur
Sinder directs and manages health care programs for seniors at S.U.C.C.E.S.S. Multi-Level Care Society. She is responsible for operational and capital improvement plans, operating budgets, quality improvement as well as service utilization for all programs in alignment with the strategic directions of S.U.C.C.E.S.S.
Senior Manager, S.U.C.C.E.S.S. Foundation
Harry Lee
Harry oversees the operation of fundraising activities at S.U.C.C.E.S.S. Foundation to support S.U.C.C.E.S.S. programs that require funding. Along with his team, he manages donor relations and fosters new opportunities for fund development beyond the current community. He leads key fundraisers such as the annual Bridge to S.U.C.C.E.S.S. Gala, Walk with the Dragon, and Charity Golf Tournament.