In order to disrupt and dismantle racism, we must be united in solidarity and firm in our commitment to anti-racism.
S.U.C.C.E.S.S. is developing anti-racism programming to support this important work. It builds on our long-time anti-racism advocacy efforts with all levels of government as well as community-level work to date including our role as the Resilience BC Anti-Racism Network Spoke in the Tri-Cities.
Programming updates will be shared on this page on a continuous basis.
Upcoming Events
Dismantling Barriers & Fostering Belonging: An Anti-Racism Initiative
Online event from May 4 – 21 with 20+ keynotes, workshops, dialogues, and performances.
Learn More & Register Here
Active Witnessing (Bystander) Webinars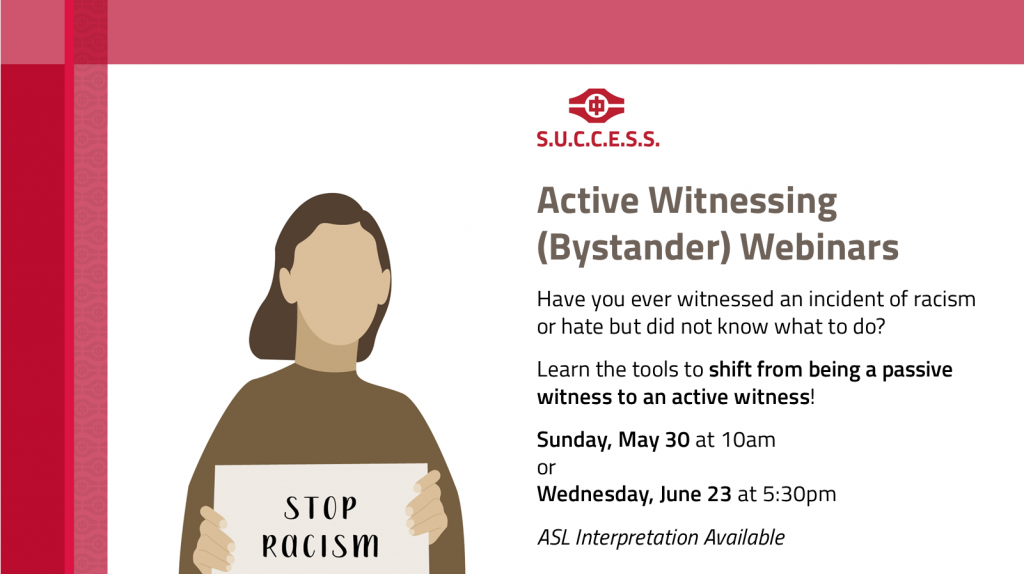 Have you ever witnessed an incident of racism or hate but did not know what to do?
Have you thought about how you could respond if you ever witnessed such an incident?
Join this community webinar to learn the tools that will equip and empower you to shift from being a passive witness to an active witness. Learn about the bystander effect, the four levels of witnessing, and effective words and actions that you can put into practice.
We can all work together towards building a community of support against racism and hate.
These sessions will be facilitated by Angela Ma Brown, who is an education consultant specializing in the areas of anti-racism, anti-oppression, social justice, equity, diversity, and inclusion.
Sunday, May 30
10:00am – 12:30pm (Vancouver Time)
Zoom
ASL Interpretation Available
Register Here
or
Wednesday, June 23
5:30pm – 8:00pm (Vancouver Time)
Zoom
ASL Interpretation Available
Register Here
Please only sign up for one session (May 30 or June 23).
You can also email [email protected] to register.
Previous Events
Creating Transformative Change Together: A Leadership Panel to Discuss Anti-Asian Racism
May 1, 2021
View Event Recording