Return to Events
Inclusive and Accessible Job Fair Supporting Persons with Disabilities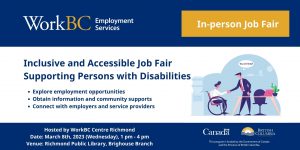 Inclusive and Accessible Job Fair Supporting Persons with Disabilities, hosted by WorkBC Centre Richmond
In-Person Inclusive and Accessible Job Fair Event
Discover job opportunities and community services designed to support persons with disabilities. You will be able to access resources and information in this in-person job fair that benefit in finding out what employment options fit your needs and interests as well as exploring many possibilities in you. Attend the job fair and learn all the valuable information you need for establishing your career.
The Job Fair is hosted by WorkBC Richmond, who is funded by the federal government of Canada and provincial government of British Columbia to provide free employment services to Richmond job seekers and employers.
This event is FREE for all participants.
Venue:
Attending employers:
Amazon
Bell

Developmental Disabilities Association

Hudson Group
Plaza Premium Lounge
RBC Bank
The Source
Universal Group
Walmart
Attending community service providers:
Aspire Richmond
Back in Motion

Chimo Community Services

Developmental Disabilities Association
Pathways Clubhouse
Richmond Centre for Disability
WorkBC Assistive Technology Services
Registration:
Event registration is mandatory.
There will be 3 one-hour time slots from 1 pm to 4 pm, with a maximum of 100 job seekers per time slot. This means that each registered job seeker will have 1 hour to network with the employers and service providers. Please only register ONCE for your preferred timeslot. The option for extension will be available onsite.
Please select your most convenient time slot and make sure to come on-time.
About the event host, WorkBC Richmond:
WorkBC Richmond is funded by the federal government and provincial government of British Columbia to provide employment services to job seekers and employers in BC. Through our case-managed employment services, eligible clients may work with an employment counsellor to develop a personalized action plan, gain skills and certification and get hired with government financial incentives.
FAQ:
Q: Should I bring my resume with me for this in-person hiring fair?
A: Attendees could bring resumes and share those with the employers. However, some employers would encourage interested candidates to apply directly on the corporate career page.
Q: If I need more time to network with employers, what should I do?
A: You may re-enter the hiring fair area if there are remaining seats for the next time slot. In addition, we will share all relevant links (e.g. career pages + employment service sign-up page) to all registrants after the event.
Q. Is the event accessible for individuals with diversified needs?
A. Absolutely. The venue provides computer stations, ramps, barrierless entrance, automatic doors, accessible washroom, etc. Furthermore, the event setup caters to attendees which allows bigger space and wider pathways. On-site staff will provide support to attendees and resolve accessibility barriers on the day.
Q. Is parking available?
A. Free visitor and accessible parking spaces are nearby the venue. Accessible ramp is available for inclusive attendees.
Q. Is the venue close to public transportation?
A. The library is only a 9-minute walk away from Richmond Brighouse Station. There is no slope, hazard or obstacle along the way to the library. However, there is a construction undergoing on Minoru Boulevard right across from the library. Please be prepared for the trip as needed.