WorkBC Richmond
proudly presents you with the ISIP Hiring Event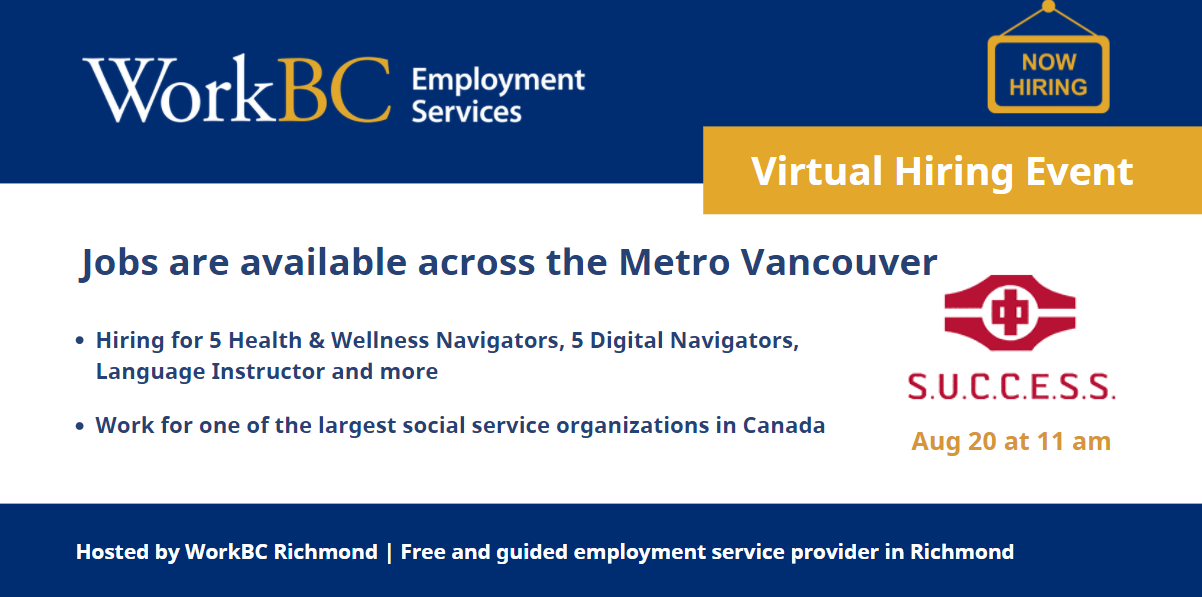 Who is ISIP?
Immigrant Settlement & Integration Program (ISIP) assists immigrants, refugees, and their families to develop English language skills, learn about Canada's labour market, network and develop professional and social networks. It is a service division under S.U.C.C.E.S.S..
Who is S.U.C.C.E.S.S.?
Founded in 1973 by a passionate group of immigrant volunteers who wanted to contribute back to Canada, S.U.C.C.E.S.S. has evolved into one of the largest social service agencies in Canada. Today, S.U.C.C.E.S.S. offers a wide range of programs and services that promote the belonging, wellness, and independence of all people on their Canadian journey.
What are you expected to learn from the event?
During the 1 hour, you will learn about ISIP's service, career opportunities, employee benefits and job application tips. Also, you may engage with the division representative in the Q&A Section if the time is allowed.
What positions are currently opening?
Language Instructors
Health & Wellness Navigators
Digital Navigators
For the corporate wide job openings, please refer to S.U.C.C.E.S.S. Career Page.
Aug 20 at 11 am, Virtual zoom event
Sign up today to secure your ticket! You will receive an emailed zoom link 2 days before the event.
About the event host: WorkBC Richmond
WorkBC Richmond is funded by the federal government and provincial government of British Columbia to provide employment services to job seekers and employers in BC. Through our case-managed employment services, eligible clients may work with an employment counsellor to develop a personalized action plan, gain skills and certification and get hired with government financial incentives.
Learn More