Chinese Meals on Wheels for Vancouver and Richmond
Chinese Meals on Wheels for Vancouver and Richmond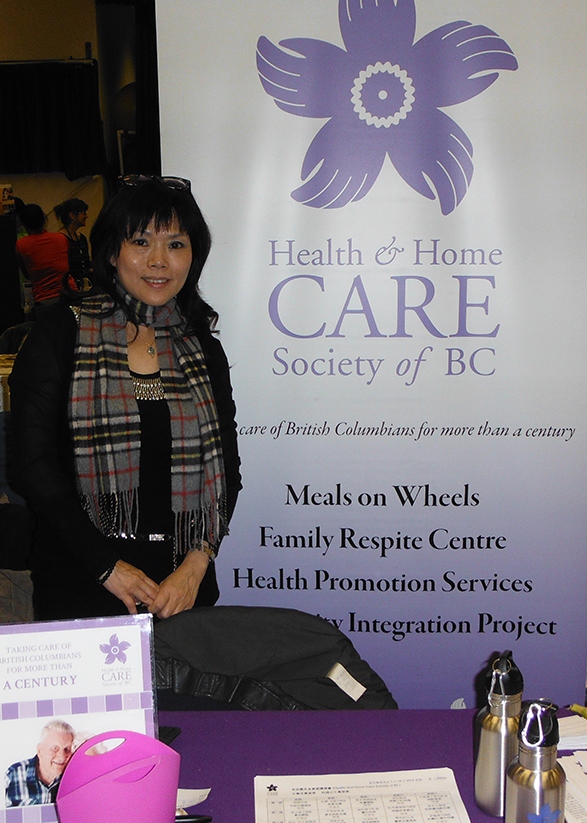 Chinese Meals on Wheels for Vancouver and Richmond
Health & Home Care Society of BC
204 - 3077 Granville Street
Vancouver, BC V6H 3J9

TEL: 604-733-6615 (Service in English & Cantonese)
TEL: 604-732-7638 (Western Meals on Wheels)

FAX: 604-733-6698
Charitable Tax No. 13082-8791-RR000
Health & Home Care Society of BC
In 1996, the Health & Home Care Society of BC (Care BC) launched one of Canada's first Chinese Meals on Wheels programs. Originally having the meals made at Mount Saint Joseph's Hospital, it wasn't until October 2003 that S.U.C.C.E.S.S. Simon K.Y. Lee Seniors Care Home began preparing the meals for the Chinese Meals on Wheels (CMOW) with Health & Home Care Society of BC. The program serves approximately 200 authentic Chinese meals every weekday, delivered by Cantonese or Mandarin speaking volunteers to Vancouver residents at risk of malnutrition or social isolation.
Please contact Shirley Park at 604-733-6615 for information about how to volunteer with Care BC or refer to our website at www.carebc.ca/english.html .

Vancouver & Richmond Chinese Meals on Wheels Brochure


Referral Form

Objectives:
Since 1967, our Meals on Wheels program has provided hot, nutritious meals and warm, friendly visits to people throughout Vancouver and Richmond. Our vision is a future where seniors live independently in their own homes.
Eligibility:
Meal recipients must reside in Vancouver or Richmond
Any individuals who are unable to shop for or prepare meals for themselves. This includes (but is not limited to) seniors, those with medical conditions, mobility issues or in the process of recovery who require short or long term support.

Delivery:
ŸDelivery is made between 10:30am and 1:00pm
ŸAvailable Monday through Friday (excluding statutory holidays)
ŸVolunteers can't leave meals outside your door if you are not home
ŸVolunteers can't take any payment from clients

Client Responsibilities:
ŸTo commit to a minimum order of 5 meals upon starting the program,
ŸTo be home for delivery between 10:30am and 1:00pm
ŸTo give notice of intent to cancel a meal before noon of the previous business day. If not, then the client will still be liable for paying for this meal.

Meal Costs for Clients:
Hot Chinese Meal - $6.25
ŸIncludes either fish, pork, chicken, beef or tofu; Chinese tonic soup; steamed rice; No MSG

Payment:
The invoice is mailed to client or to a third party at the end of each month and can be sent:
Ÿby mail – a cheque or money order payable to "Health and Home Care Society of BC",
Ÿby phone - Visa or MasterCard, or
Ÿin person at our office – cash (exact payment only please – no change provided).

Contact:
Health and Home Care Society of BC
Chinese Meals on Wheels Coordinator: Shirley Park

Telephone: 604-733-6615
Hours: Monday to Friday from 9:00 am – 2:00pm
Fax number: 604-733-6698
Email:This email address is being protected from spambots. You need JavaScript enabled to view it.
Website: http://www.carebc.ca